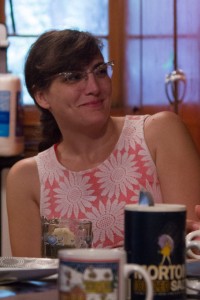 Besides publishing twenty-odd short stories, a dozen poems and a few comics, Marie Vibbert has been a medieval (SCA) squire, ridden 17% of the roller coasters in the United States and has played O-line and D-line for the Cleveland Fusion women's tackle football team.
Her work has been called "..the embodiment of what science fiction should be…" by The Oxford Culture Review.
Yes, her hair goes to the ground.  She cuts it when she steps on it.  If you have more questions about that, see the Hair FAQ.
Marie is a web developer from Cleveland, Ohio.  She is a member of the Cleveland science fiction writing workshop, The Cajun Sushi Hamsters from Hell, attended Clarion in 2013, and joined SFWA in 2014.
Marie is also a member of SFPA. She was nominated for a Rhysling Award in 2015, won second place in the Hessler Street Fair poetry contest, and once sold a rhyming poem to a magazine that had "no rhyming poetry" in their guidelines.
She has an identical twin sister, Grace, who is an accomplished illustrator. (Check out our comics together!)
Marie met Brian Crick when they were both students at Case Western Reserve University.  They were married in 2001 at his mother's house in Vinh Long, Vietnam.  They live in Cleveland Heights with his brother John, her sister Terrisa, niece Jennifer, and two cats.
Marie offers all the Marie you can handle on her Feeding the Stalkers page.
You can follow her on twitter @mareasie