"I've got to be writing.  I have a few ways to make sure I can carve out time. Part One: Neglect everything else" -David Mitchell (quoted in The Atlantic.)
Like most writers, I don't write enough.  I have a goal to write one hour every day. I have met that goal two days out of the past fourteen and I'm beating myself up about it.
How NOT to be a writer:

Have other, very involved interests.

Read.

Socialize.

Commit to other activities.
How to be a writer:

Have experiences.

Study writing.

Talk over your ideas with others.

Think about your plot problems while your hands are busy.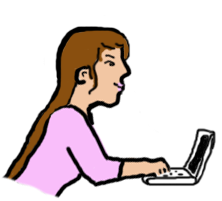 And then, actually write.
I gotta work on that last one.







by







by