When I was a kid, I would make a list of my homework assignments every day and bring the appropriate books home from school.
And there they would stay until I picked them up on my way out the door the next morning.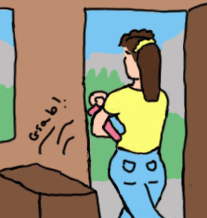 All my New Year's Resolutions throughout high school included "Do my homework! Every day!"
One time I actually did homework – I was so proud of myself! "That was easy and quick! It felt great! Now I'm more prepared for tomorrow!"
Still, it only happened the once. 😛 Mostly, if asked, I'd say "I want to do my homework, but I don't have TIME."
Here's another example.
I was an SCA fighter for a while – ten years ish.  I was even a squire!  I'll never forget the words my knight said to me one day when I was whining about how I needed to practice more and I needed to fix my armor but I never got it done.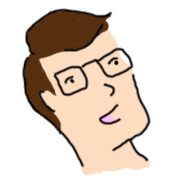 "Well," he said, gently nodding, "You choose how you spend your time."
OUCH, right?  Hadn't I just been lamenting how I didn't have time?
Here's the thing: I did have time. I voluntarily relinquished control of it.
It's not that the things I did instead of homework or working on armor weren't important, selfless, necessary tasks – dishes, family time, what have you.
It's that I didn't even realize I WAS DECIDING TO DO THESE THINGS.  I just "had to".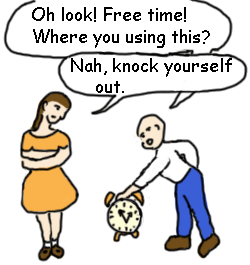 "I wanted to do my home work, but I HAD TO make dinner, and then we had an hour-long argument over whose turn it was to do the dishes and then Star Trek was on and before you know it, I HAD TO go to bed."
I left my free time unattended and random chance made off with it. (Random Chance is a real jerk.)
It's a choice, what you do with your time. I take responsibility, now, for that choice. (Mostly.)
Taking responsibility goes both ways.
It also means giving yourself credit for your choices: saying, "I went to work for eight hours today, and then I did dishes. I got no artistic project work done, but GO ME. I chose to do that."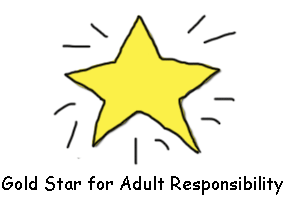 It also means making the choice NOT to do something because there's something you'd rather get done.  In the immortal words of my father, "You don't GOTTA do nothing."
Yeah, verily, even the house don't GOTTA be cleaned. Unless company is coming.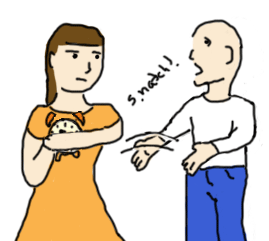 This was a big epiphany for me.
What are you denying yourself because you don't have time?







by







by