Although this site is ample proof of my lack of artistic talent, I've always wanted to write comic books. Thankfully, I've found I can write them and have people who can actually draw provide the pictures!
Vagabond Comics Issue Six: Afloat contains a short comic by me and my sister Grace, "Fat Mermaid in: Wardrobe Malfunction."
Buy Ladies' Night: How to Magic anthology with my short story  "Magical Services Help Desk." Art by the insanely talented Amber Huff!
Buy the Dark Lady anthology from Hellcat Press for my short comic story "Body Images" with art by my sister Grace Vibbert!
Coming Soon:
Adam Noble drew a retelling of "The Were-Wolf" for me for "It Came from the Public Domain!" a comic anthology that came out just recently. No news on when it'll be available to order online tho.  Click the image for a sneak peak.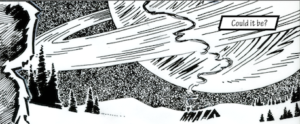 Here, have a fat mermaid pic, too. Because look at this lovely lady!  Gracie and I are talking about sequels!