Hello, darlings! I've just returned from the 2017 Nebula Conference. It was in Pittsburgh this year, which is an easy drive for me, and my dearest Clarion baby brother Patrick lives in the 'burgh and our Clarion-sister Alyssa was nominated for not one but TWO categories so I had to go.
It was also the week of CWRU's commencement so I felt push-back asking for the time off from work, but hey – I'll take all the stinkeye you wanna throw for this occasion!
This will be my – what? Fifth Science Fiction Convention? Sixth? It's starting to feel like a Thing I Do. WisCon last year felt like my first Success At Con Attending.  I enjoyed myself, didn't mope in a corner feeling like the Kid Who Doesn't Know Anyone, and I didn't end up in the emergency room. (ha ha oh what a bar you have set for me, ReaderCon.)
I wasn't sure I could experience that WisCon joy again. I was wrong! The Nebula Conference is EPIC. It's like an entire science fiction convention full of nothing but special guests! AND I GOT IN.  Ha ha okay so they don't exactly check your SFWA membership at the door, but asking people around the halls if they were writers, I only had two sheepish "not really" responses. (And you KNOW those two kids are shopping something around. ALL THE BEST CON STAFF KIDS.)
I'm all-caps-ing. Sorry. It was just so emotional! Patrick and I were tense on Alyssa's behalf.  I was worried about the cost of the weekend. It is NOT cheap, which is why non-pros are probably leery.  Still, checking in I got a huge bag full of books to ease my money-conscience.
Also, I was afraid I'd be moping in a corner as The Kid Who Doesn't Know Anyone.  Patrick and I tried to see Alyssa right away but she was whisked from our sight quickly, surrounded by People I Don't Know and I tried, awkwardly, to join lobby conversations, but I was awkward and didn't know anyone.
Arley Sorg came to my rescue, greeting me like an old friend. "Hey, it's Marie!"  I'd met him at WisCon and he was super sweet about introducing me around. He's an assistant editor and photographer for Locus and he knows EVERYONE.
In the hotel bar, somehow favorite authors came up and I mentioned Connie Willis, who is by far the best plot-architect you will ever find. "Oh?" said Arley, "Would you like to meet her? I'll introduce you."
"Nooooo! I'll explode or melt or drool." I covered my face.
"Really? Because here she comes."
CONNIE WILLIS WALKED UP TO OUR TABLE. "Do you want to hear the latest?" she asked. She had NEWS to share.
"Sure, in a minute," Arley said, "But first I'd like to introduce my friend Marie Vibbert."
I fangirled at her and she reported the latest headlines and I TALKED TO CONNIE WILLIS.
Yeah so it was like that. Around every corner was a brilliant, amazing author.  Our week one instructor from Clarion, Andy Duncan, was going to announce the winner of the short story Nebula. It was wonderful to see him and hug him and bother him when he was trying to be interviewed. I met S. B. Divya almost accidentally because I was floored at how gorgeous her Award Gown was.  AND SHE RECOGNIZED MY NAME BECAUSE STORIES.  And she offered to introduce me to Trevor Quachri, whose excellent good taste had me quite curious to meet, and she did!
Okay, you get it, I ran around half the weekend with star-shaped eyes, covered in fan-glitter.  Could I drop a few more names? SAM J. MILLER IS AWESOME.  Kismet had Patrick introduce me to E.G. Cosh and Chris Kammerund of Storylogical, whom I had already been following on twitter because they reviewed a story of mine, and then I said "Oh I hope I can meet my friend Eliza" and they were like "Wait, not Eliza Blair?" It was "small world" syndrome to a scary extent. I wasn't The Kid Who Doesn't Know Anyone. I knew people who knew people!
MARY ROBINETTE KOWAL GAVE ME ADVICE. I AM UNWORTHY.
We were able to kidnap Alyssa at last and went Out On The Town. Local McLocalGuy Patrick led the way and we had Fancy Food.  Italian on a sidewalk with an awning over us and the slight threat of rain and Segways and driverless cars passing by.  Also got to spend time with super nice editor-guy Carl and Patrick's friend Carrie who is, like, viral-famous!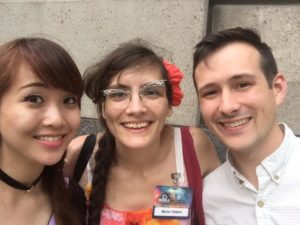 I'd been to Pittsburgh many  times -to ride rollercoasters at Kennywood, to play football against the Pittsburgh Passion, to visit Patrick, but I'd never really seen the city like I got to this time. Patrick and I took the bus each day from his Squirrel Hill home which gave me a great ground-level view of the city, and then I got to leave the con to wander with people several times.  Saturday morning I found my dear friends Mary Turzillo (pre order her book!) and Geoff Landis just itching to do a wander and we took off, exploring downtown Pittsburgh aided only by Geoff's opinion of where a park might be ahead of us. We ended up under the convention center, which was really, really neat. There's this Emerald City Yellow Brick Road surreal vibe to the path that cuts under the convention center, winding whimsically with water falls on either side, lit bright green on this occasion.
It's a good representative of a city that is all bridges and tunnels, retaining walls and angles.  I fell in love a dozen times with a row-house corner window or a weathered staircase. I wondered endlessly how Bike Pittsburgh could beat Bike Cleveland in the national bike challenge when there is not a single stretch of flat pavement in the city.
So, Saturday night arrived. The big event. I'd been wearing my Attack of the B Movie dress and Squid Fascinator all day, carrying a change of more formal attire in my Cheeseburger Backpack. As I tried to stuff a crinoline into a backpack in a public restroom, realizing I had no bra to wear because I hadn't worn one with the halter-top dress and was I really going to let 'em hang all night?  I considered this was not the best plan I'd ever come up with. (Sorry I don't have a good picture of myself from the evening, though it's possible one exists. I wore my Ribbon Dress.)
The stars came out. Glitter. Chiffon. I swooned. I gushed. I tried to remember to ask permission before touching people. The banquet hall was beautiful with little robots on every table. We non-banquetters got seats at the back. The keynote by Astronaut Kjell N. Lindgren was amazing.  I hope they put it up online to view because I would watch it again.  He was funny and informative and thoughtful.
The non-Nebulas came first, including the Andre Norton award for Best YA. The winner, David D. Levine, dedicated his win to his dead wife and she was from Pittsburgh and would have loved this conference and SHUT UP I'M NOT CRYING YOU ARE.
Seriously, I had messy, snotty tears at that point.
Andy's introduction to the Short Story awards was also delightful. Patrick grabbed my hand and squeezed. We held our breath.
Alyssa didn't win. I patted Patrick. "She's up for TWO," I reminded him, quietly. Anyway, the winner, Amal El-Mohtar, was too sweet and charming and flustered in her speech to feel anything but happy for her. She brushed tears back and apologized that she was shaking too much to open her notebook and read her script. She'd been detained by immigration on her way to the ceremonies. That made me angry and sad and more happy that she won.
"Well," I thought, "This can't get more emotional."
Best Novellette – noooo not Alyssa again. BOO. Well, okay, the winner was sweet and charming… it's not about winning… it's an honor to be nominated. *sniffle*
I'd really been hoping for Divya to win Best Novella, but when Seanan McGuire held her Nebula like a teddy bear, you couldn't be sad.
And then the best novel was Charlie Jane Anders' "All the Birds in the Sky" and the audience kind of flipped for her and I was all "oh hey that's the DJ from WisCon!" (I have priorities.)
The awards ceremony was extremely emotional. I hadn't expected to get so caught up in the tears and smiles.  It was beautiful.
Here is the website for The Nebula Awards if you want to see what I forgot or left out.
I ended up staying up nearly to dawn, drinking and talking. Patrick somehow steered me away, put my backpack back on my arm (I'd abandoned it with him) and got me back to his couch.  I woke up delicate, but not non-functional. Go team. I finally attended panels on Sunday. (HA HA I KNO RITE?) Including a very fascinating one on Neuroscience. Then it was back in the car and home to Cleveland.
Whirlwind. Fun. 10/10 would do again. Now for the serious question – which of my Nebula pictures should be added to my Feeding the Stalkers photo feed? The one Andy snapped of me eating cake with my fingers (at the top of this post) or the Arched Eyebrow one Mary took below?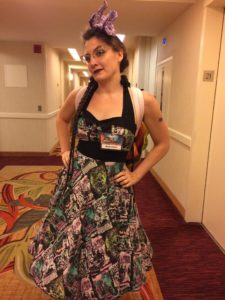 by







by