Yup, I'm doing "National Novel Writing Month".
This month, I'm going to work on "Galactic Hellcats," a tale of adventure and girl gangs in space.  With space motorcycles. Shhh.
I started "Galactic Hellcats" a while ago, as a short story called "The Origins of the Stardust Gang."  I have about 10,000 words written. I think? Should check that, like, now, huh?  I hope to complete a draft this month, we'll see. Shooting for 70,000 words.
I'll be appearing in the front window of AppleTree Books on Cedar to celebrate the month, on Thursday, November 3rd from 6-7pm – that's THIS THURSDAY!
I'll do it again on Friday, November 11th from 6-7 pm.  Come watch me write. It's… thrilling, right? Watching someone write?  Well, I promise to wear something nice.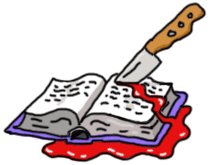 by







by